Last week was CRAZY! So glad it's over.
It started the weekend of Halloween when Dustin got sick and slept most of the weekend away, so not much a break for me. Then we found out he was going to be out of town for three days the following week for an Art teacher convention in San Antonio, usually that wouldn't be a problem, except I had a Super Saturday that I was somewhat in charge of, and Thomas' birthday was that Friday. So we decided to celebrate Thomas' Birthday a few days earlier, which rushed me with getting things ready for his big day, and everything seems so much more work when your pregnant(at least for me) while trying to get this Super Saturday taken care of, I felt like it was taking over my life.
Thursday morning I drop off Dustin for his trip at the school when I get a call from my counselor that one of our projects was falling to pieces for Super Saturday that was in three days!!!! And it was one of our bigger projects and about 17 people signed up for it. It was the Christmas advent Calendar that we have been working on for weeks. I designed the print on photoshop and had made twenty frames for it the week before, and to find out the project wasn't working??? And I forgot to mention Oliver is was sick and had a fever and was up all night the night before.
To make a VERY long and DRAMATIC story short, the teacher we originally had in mind to help teach the project that Saturday waited the last minute to put the calendar together and decided to do it her own way which turned out horrible, and dropped out of the project because her feelings were hurt and said my print was a stupid idea and that we should have done chalk paint. So this was Thursday before the big Saturday, I was running over town getting supplies for this calendar with my counselor while another friend of mine figured out how to put the calendar together. Poor Oliver was sick and had to work with a mother running around town when he wanted to snuggle. I was not a very happy camper. Especially when I was going to go grocery shopping that day and we had no milk or bread, so Mcdonald's it was that day for lunch so my kids wouldn't starve,
Later that day he feel asleep while he was eating dinner and woke up an hour later, which made him tired but enough sleep to take forever to go to bed that night. Then later that night he kept waking up, so I put him in bed with me, and he threw up all over me, my hair, the bed, and all he wanted was for me to hold him, I tried to clean us up and change our clothes but all he wanted was to be held, so I just laid down with him on the other side where it was clean and let him fall back asleep while I was covered in spit up, luckily it was mostly water. Oh the joys of motherhood!
Then in a few hours Thomas woke up which means Oliver woke up when I got out of bed. I bathed Oliver while Thomas watched Cartoons, then I went to get in the shower when I swear all heck broke loose, so I pretty much sprinkled myself then went to take care of the kids and still had some throw up in my hair, LOVELY. Then I had to play catch up because I lost the day before trying to figure out the advent calendar situation. In the evening we had to set up for the day before, so luckily my mother in law was an angel and was able to watch the kids and put them to bed while I set up tables and the class rooms. I got home around 9, talked to Dustin on the phone for a little bit, then worked on signs to put at the church so people knew where to go, then I started to make the soup for the Super Saturday when Oliver started waking up again and acting sick. I felt like I never stopped for a break. He finally went back to bed, and I was too tired to finish making the soup that I decided to finish it the next morning.
Next morning Oliver woke up at 6 and wanted to be held, after that I finished the soup, got the kids ready and dropped them off at my in-laws for the day. Again, best mother-in-law! Then I helped get things set up, and the classroom I was assisting had no one at first so I took the chance to work on some of the projects that I signed up to do. (I originally thought I wouldn't have any time) so I got 2 of the 3 things done the first half hour, but after that I was super busy. I had to help set up lunch, got to eat some soup really quick then I had to help clean up one class and to get another class set up. I was on my feet all day helping people with their classes. Then when everyone left we went to help clean up, and I decided I wanted to hurry and get my advent calendar done because I knew that if I didn't do it then it wasn't going to happen because I didn't have the tools that I needed. I was way tired but I still wanted to finish it, and it was my fault, but I asked one lady to help me get it done fast so we can finish cleaning up. So we get the print on the backing nice and straight, then we flipped it over on the frame and we nailed it in, we were almost done with it, when we flipped it over when we saw we put the frame backwards so the stained, nice side of the frame was covered and the ugly part of the wood was showing. I just about bawled my eyes out!!!! I had worked so hard on building twenty frames, making the print, getting all the prints for everyone, then to mess up on MY calendar! It was so hard not to cry, I was so tired, still had throw up in my hair, and sick kids, pregnant and in a lot of pain from working too hard, and I messed up on my advent calendar!!!!! I knew the lady felt horrible, so I told her no worries and that if we had an extra frame I will just put it on top of the ugly side, but I was crying inside.
I get home, my mother-in-law brought the kids home with pizza! She was a saint! Then she left for the day and I put the kids to bed, poor Oliver still felt a little sick and wanted to me to carry him but I just started crying and said "I can't, I hurt too much, I just can't" (I have already put 30 pounds on so I'm always in pain these days)And poor Thomas just sat there didn't know why mommy was crying so much. Then Oliver cried so much he threw up again, so there I was crying cleaning throw up and then holding Oliver to comfort him and crying because my back hurt so much, I had over worked myself those few days. Ha ha pretty sure my boys didn't know what to do with mommy. After the kids fell asleep I just soaked in the bath tub to help heal my body when Dustin came home and the first thing I said to him was " I ruined my advent calendar!" and started bawling again. Poor guy.... a lot of hormones with this pregnant lady last week.
Anyway, glad that week was done. It was also our Primary program that Sunday, I know to most people that's their favorite sacrament of the year, and maybe it will be mine one day, but since I'm always a primary teacher I hate it, ok hate is a harsh word, I dislike it. To me it means I have to take care of other people kids' another hour that day, I know wrong attitude to have but it's true. Anyway so that happened, and it was Thomas' first primary program and I didn't really get to see him because I was too distracted making sure my kids were good, but I guess at least Dustin got to enjoy it. Anyway again, glad that week is over, but on the bright side.... the Super Saturday was a SUCCESS! Everyone was very impressed and were happy with their projects. We had three in-actives come and they loved it! One even made a comment on Facebook how awesome and wonderful it was... but didn't come that Sunday, but hey we are working on it! We also had two non-members come and said they were impressed with all the hard work that was put into it. So after hearing that, it made me feel like it was worth it..... AND luckily we had enough frames and prints leftover this past Tuesday I made a new advent calendar, so now I have one! After all the drama!
Anyway, here are some pictures from the last two weeks:
The kids playing, Thomas making awesome dinosaurs out of blocks-they are actually very impressive, watching movies with a sleeping bag and pillows, and my growing belly-this picture is almost 3 weeks old. This pregnancy... the weight gain has not slowed down, last apt I had already gained 30 pounds!!! I haven't done anything different from my other pregnancies, except I'm walking around ten miles a week, so I don't know what's going on, I try not to worry about it, but it's still somewhat worrisome, I want to be healthy and gain what the baby needs, but it's really killing my back and now my pelvic bone. It's just frustrating to me because with Oliver I was bouncing around till the last week while with this baby I can't work as hard without being in pain, oh the frustrations... and I'm sure the weight will be hard to get off, especially the rate I'm going I will have to try and lose 40+pounds, and that's going to take a while. Anyway...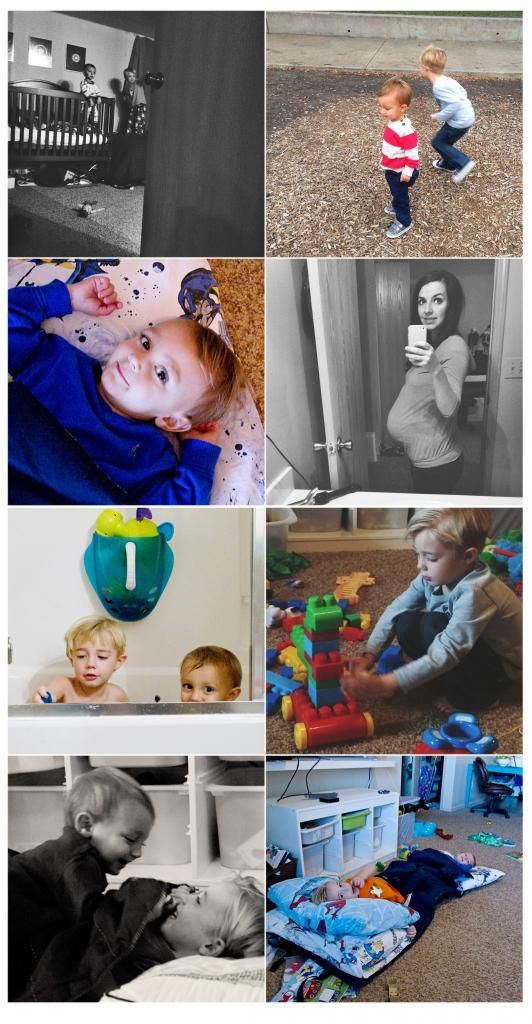 So I took this picture from one of my friend's instagram because I haven't had a chance to take pictures of my projects. But these are just a few of the projects we did for super Saturday. The pinecone door hanger was a free class, I did this one and I actually loved it way more than I thought I would. Thomas said it was very pretty. Then we did two different kids of stockings, this one is for the front door and you put some floral stuff in it, I would have done it if I thought I had the time but I thought it was cute. Then the other one was a simple stocking. Then the Advent calendar, that gave me so much grief, you can either put ornaments or packages on in with clothespins. And also there is bunting banner you put on it, when I have mine set up I will take a picture. Then a thankful sign ( I did this one as well) with clips on the bottom to put pictures. Then we had a gourmet caramel apple class that looked awesome. A everything pumpkin class where we got all these awesome recipes and learned about pumpkins and eat many samples, then we had an "art of gifting" class where a lady showed different ways to wrap presents and make bows, etc.... I heard it was really good. Then we had a gift tag class where you make a kit with several gift tags this Christmas. And probably another project, but I can't remember.
Anyway, it was fun but I don't know if I would want to be in charge every year!