Well we are finally back from Denver Colorado!
We had a great time there, but it's always nice to be back.
(WARNING: Long post)
The beautiful flowers Dustin came home with.
Before I go on about Christmas I want to write down about our anniversary. Our anniversary was AWESOME! And Dustin really spoiled me this year, what can I say I'm a lucky lady.
Before we started our date, we dropped off Dustin's mom at the airport with Thomas, man, that was hard for me. Since Denver was a long drive we decided to have Thomas fly with Dustin's mom while we drove the next day. It was the first night away from Thomas EVER!!! And it was a little hard on me at first, not going to lie. But Dustin and I have never had an anniversary without Thomas before like that. Our first anniversary he was a month old so I couldn't leave longer than 2 hours, and the other one we just went to a movie and took him to dinner with us. So it was nice to be just us.
That night Dustin took me to the Cheesecake Factory which was good as always. Than he took me to Build-a-Bear to make a bear, I know I'm just like a kid, but we were there the other day and he could tell I wanted to make one, so he gave me a gift card to go there.
Than we went to Pottery Barn Kids , which is one of my favorite stores but $$$, so if you haven't heard of it or seen any of their stuff, DON'T, you will never be satisfied by anything else, their stuff is that cute! And he let me get some of their Christmas ornaments, since I've been wanting to get more Christmas stuff and they were 75% off so the price was reasonable like what you would pay at
Walmart. Also Dustin's been giving me some spending money every month and there was a quilt there that I wanted REALLY bad for Thomas, and again, there was a great deal that day and Dustin told me to go ahead and get it, which is a good thing, because if he didn't say to do it, I probably wouldn't ever get it and I have been eyeing at this quilt for months!
I was very spoiled, I did give him a gift certificate so he could buy some art books for the I pad, but my present was nothing compared to his.
DENVER
Than the following day we headed to Denver. It was a 12 hour drive, 800 something miles and I was 35 weeks pregnant... surprisingly it wasn't that bad and it was nice to get to talk to Dustin one on one that we had a few good laughs and some funny stories involving public bathrooms.
CHRISTMAS EVE
Christmas Eve was a more relaxed day and we had all the kids decorate sugar cookies for Santa. Thomas didn't quite grasp the concept and he just started eating the cookies.
CHRISTMAS DAY:
The next day, Thomas woke up at 4:30 and wouldn't go back to bed, so we took him downstairs and wondered if he was hungry since he hadn't eaten all day the day before and that he threw up a ton. We got him to eat a little when he looked over at the Christmas tree and saw the train track that "santa" left for him. Usually Dustin's family makes the kids wait till every one is awake before they can come out, but we figured since Thomas missed out on the party the night before he could see the presents early. And he LOVED the train set. He played with it for 2 hours straight before the other kids got up.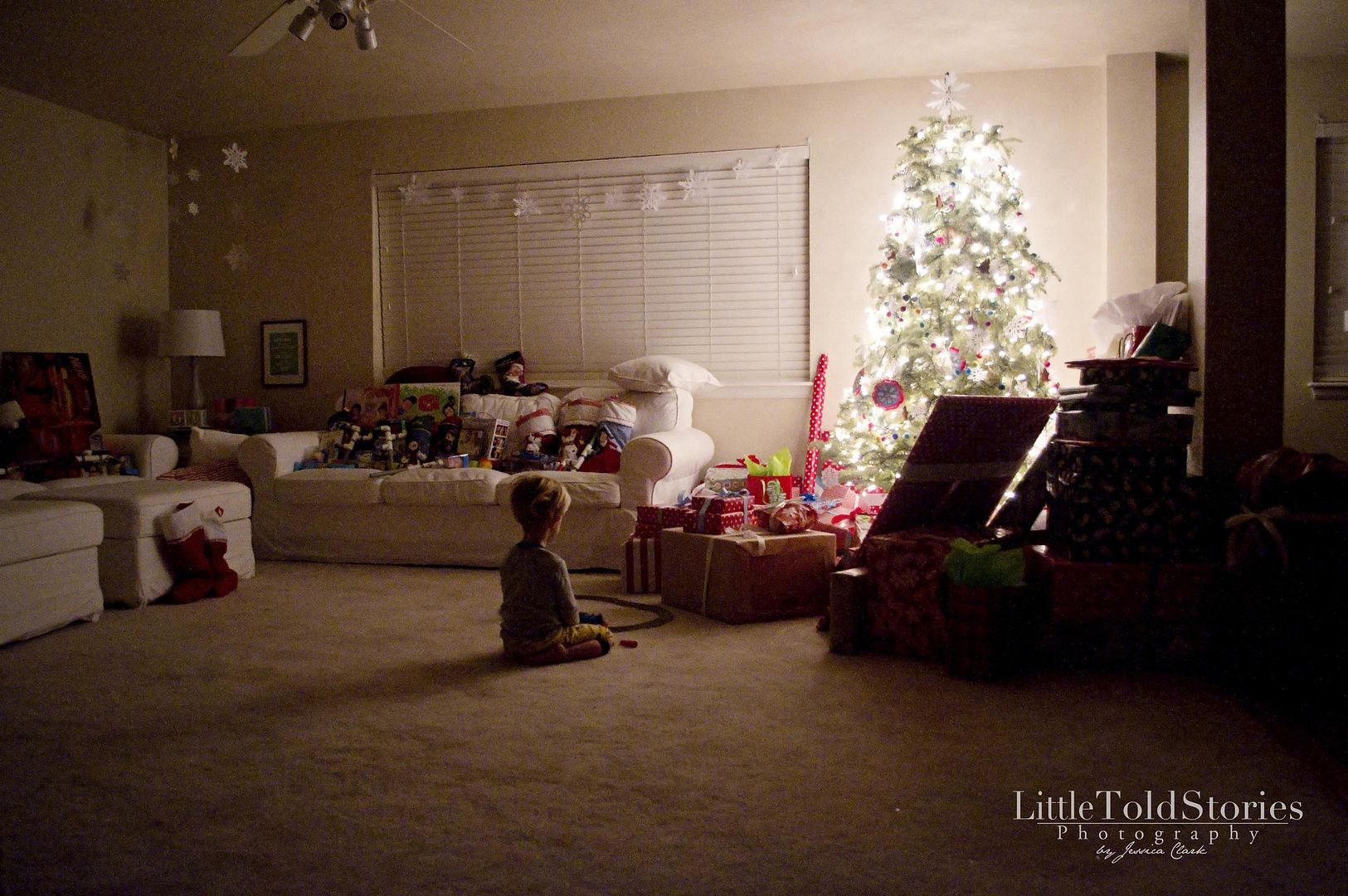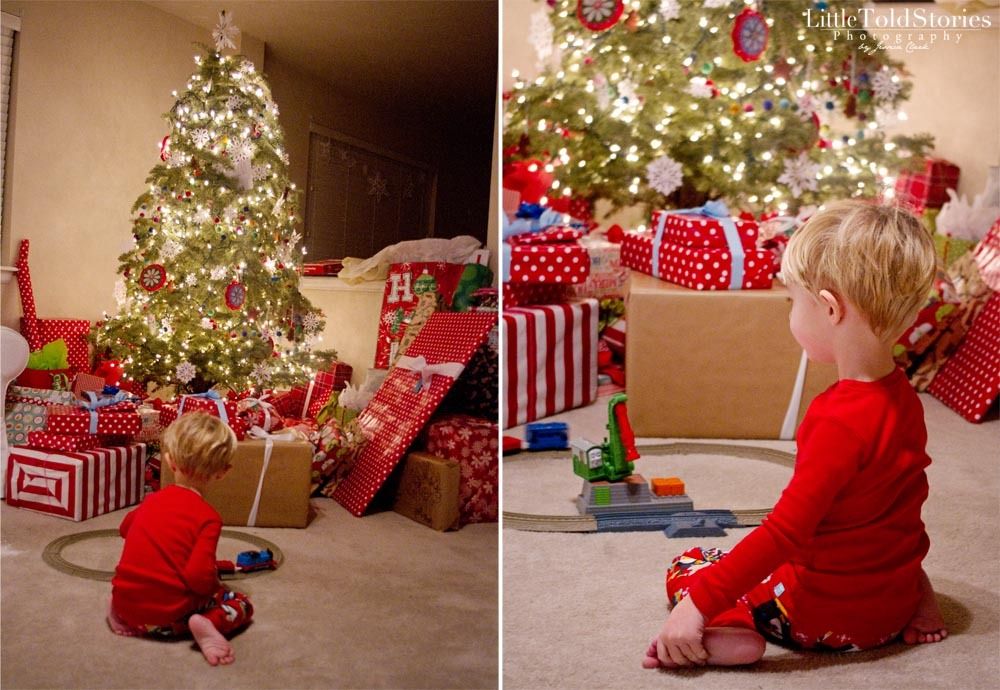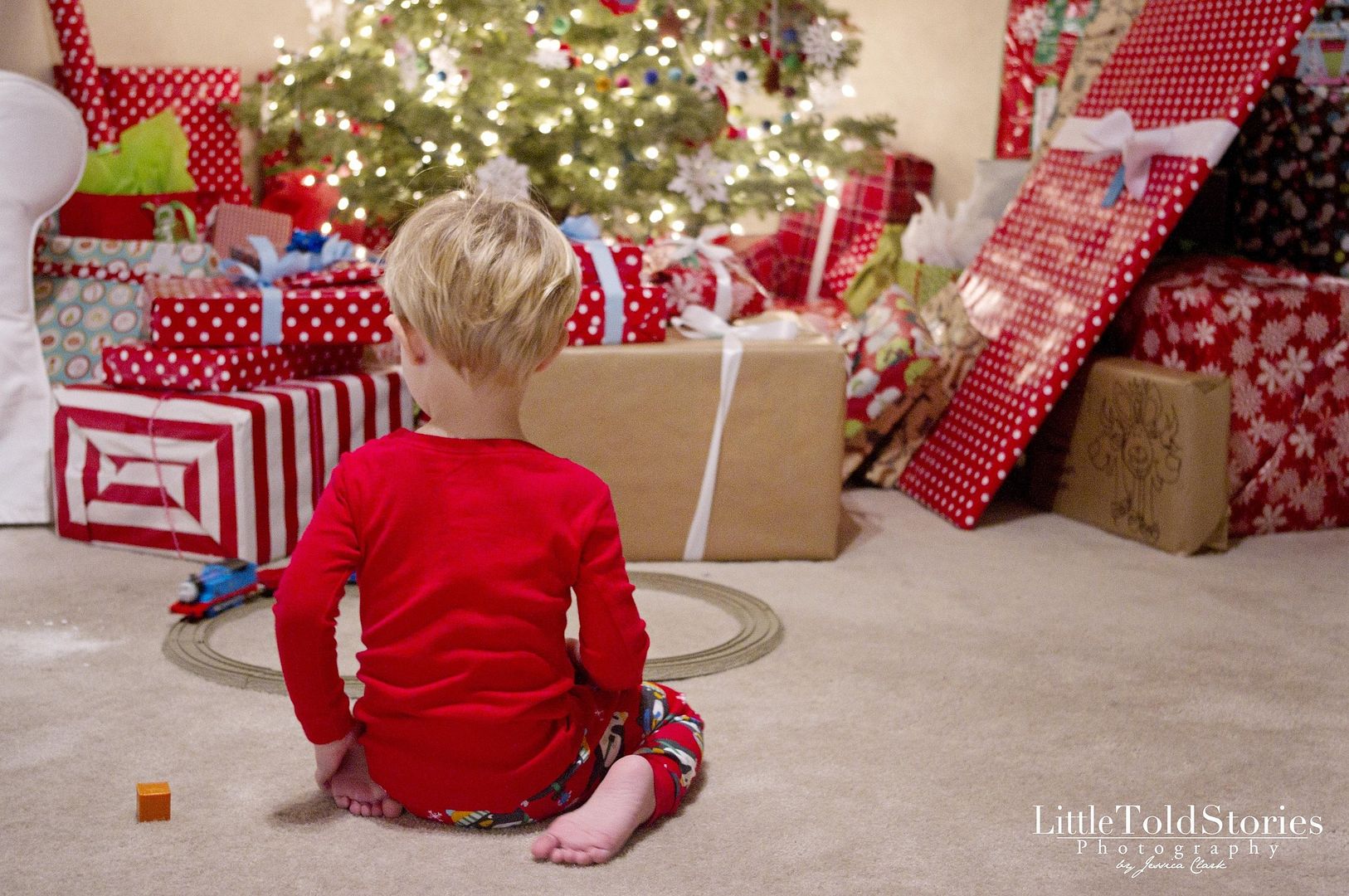 Than when everyone was awake we opened presents! It was so fun to see Thomas get excited about unwrapping presents and getting excited about every toy/book he got. He got a lot of Thomas &Friends trains sets, books, and a movie that right away he went straight to the TV because he wanted to watch it. He also got a plane, clothes, the Polar Express book, home-made crayons, the kid was in heaven.
Dustin got more art books, I can't buy enough art books for this kid. That's almost the only thing I get him for every birthday/Christmas. So he got about 4 art books, I also got him clothes, some movies. He also got an apple TV and a monitor from his parents so he can start doing digital caricatures for parties.
As for me, again, I got spoiled. Dustin did SO good this year. I got a BUZZ LIGHT YEAR! Yes, I'm a nerd, and a kid at heart, he also got me the Maurander's map replica from Harry Potter-that one was a big surprise! I guessed all my presents but that one I had no idea, I've been wanting that ever sense I saw one at Harry Potter World, it is very cool, it unfolds super crazy like the movie, yes I'm a super NERD. He also got me the 5th Harry Potter book (I've been slowing collecting them), boots, and a fake wood floor for photography! I'm SOOOOOO excited for that one! I haven't used it yet, but I'm so excited to use with it Thomas and Baby #2! I told you, he did do good! I also got, I don't know what you call them, but my mother-in-law got me those crochet Sesame Street characters that you put around your camera lens to help get kids attention. And she gave me money to spend on Christmas sales because like I mentioned I've been trying to get more Christmas decorations.
So we all got very spoiled this year, so much for trying to keep it a small Christmas this year.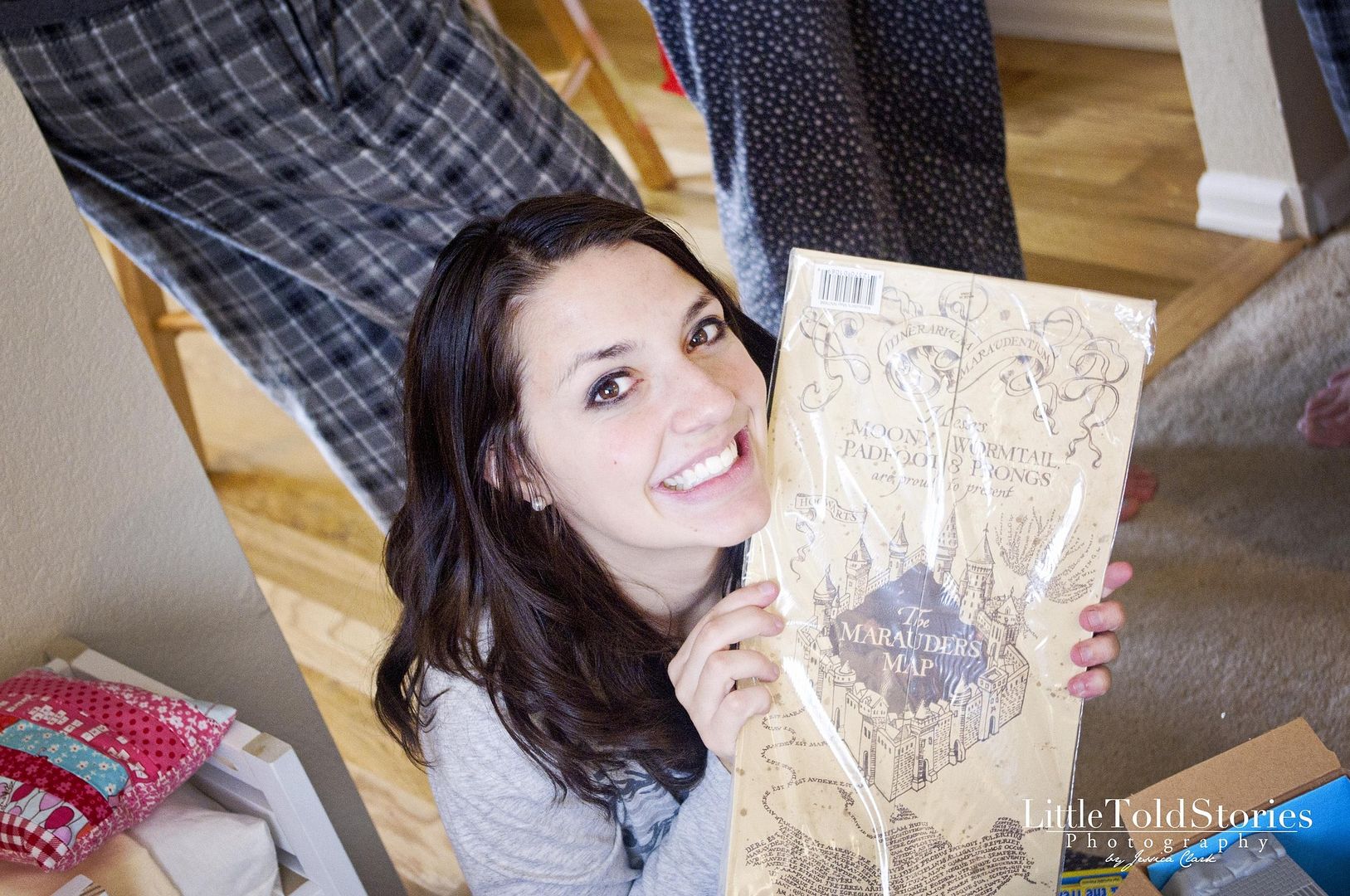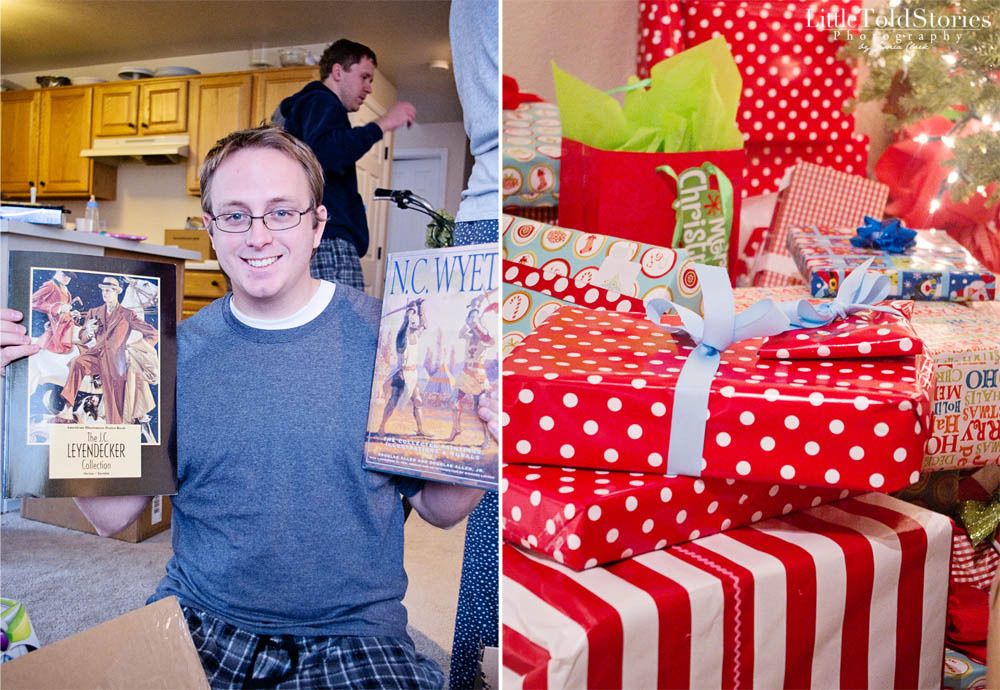 Than here are some pictures through out the week. It was so fun to hang out with family. And I had a white Christmas!!! Last year was little sad, when it was still 90 degrees in Florida.
We did a lot of hanging around, some went ice skating-we sat that one out, not a good idea for a pregnant girl, a bunch of us saw Les Meserables- I'm still digesting that movie, I liked it, I don't know if I want to see it again, it was really heavy for me and I cried 3 times. Anne Hathaway blew me away and I don't even like her! The camera work bothered me, I'm sure there is a reason for the style they did it in, but it was too distracting for me, and sometimes the people were out of focus. Mariaus( or whatever his name is) was AWESOME, and Eponine (again not sure how to spell it) was amazing. Not sold on Russell Crowe, but I'm never sold on him. I did think it should have been rated R but that is my opinion, I knew their was going to be stuff in it because of the subject matter, but being PG-13 I thought I would see a little less. I do think it deserves to win rewards but it's not the best show that I keep hearing on Facebook. So there is my 2 cents about the movie.
Also we got some awesome sales at stores after Christmas, Old Navy was practically giving away their clothes, ok, that's exaggerating, but their deals were awesome. Also Dustin's dad got more tracks for Thomas' trains so now he has I don't know how many sets but now we can build a lot. I think everyone played with the trains at least once this week.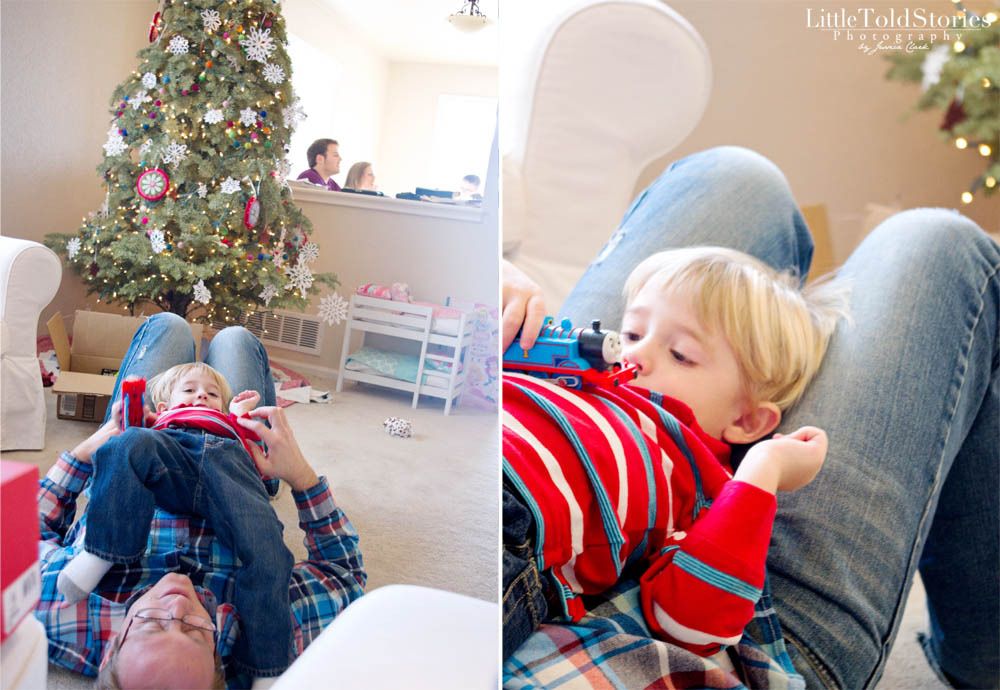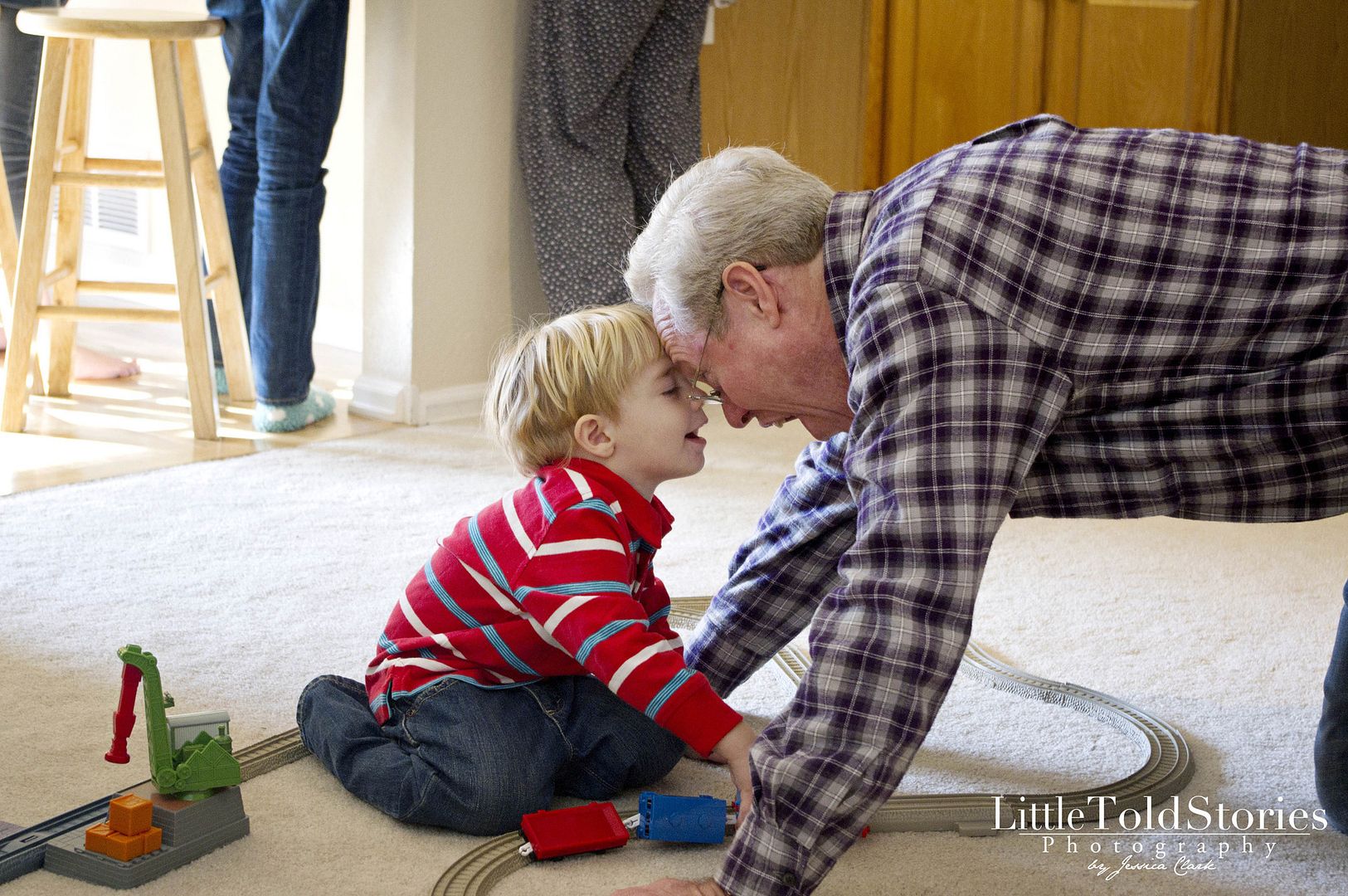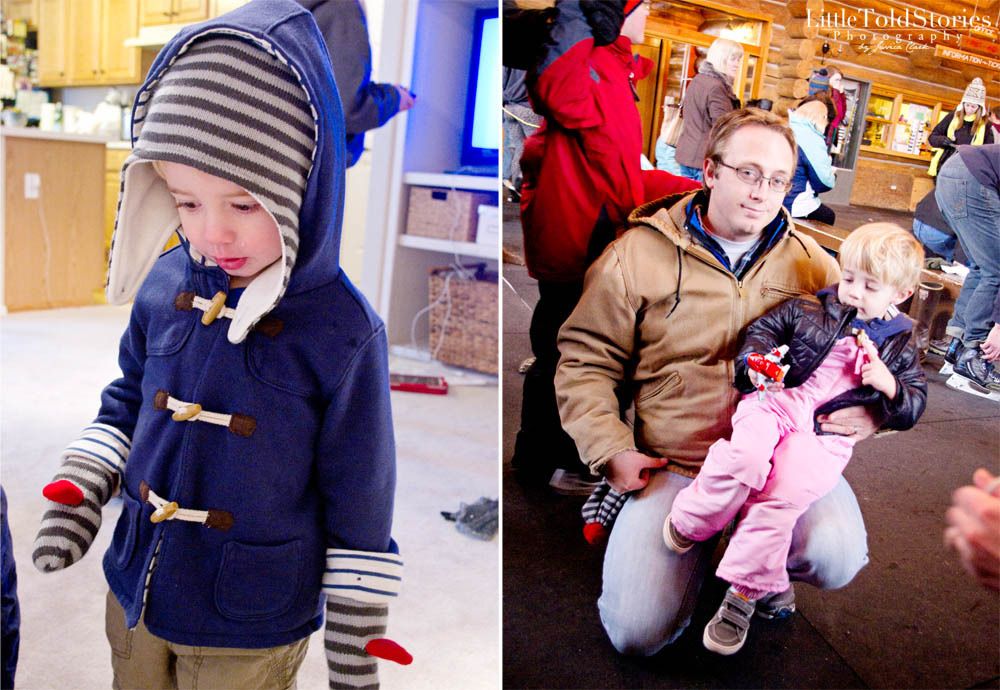 Gotta love the pink snow pants! I didn't want to buy snow clothes to just use for one day so we used hand-me downs from cousins.
Than yesterday we headed back, while Thomas flew with Dustin's mom. But this time we had Dustin's brother Hayden and Lara, his wife, come back with us and they are here for 2 and half weeks!
So now that we are back to reality, I've started getting stuff out for baby #2! I'm down to 3 1/2 weeks! I'm hoping less, but I might not be so lucky. My guess is January 17th, I just wanted to pick a date, so that's the date. I just want to see how close I was.
Anyway, this was a long post, probably boring for most.
But I hoped everyone had a good Christmas too!